JERUSALEM — On Wednesday, just ahead of the storm that covered Jerusalem and the surrounding area with a thick blanket of snow, the International Fellowship of Christians and Jews (The Fellowship) together with United Hatzalah, distributed more than 200 packages of warm blankets, space heaters, and food supplies to elderly residents of the capital and the surrounding region.
Fellowship President Yael Eckstein said: "The Fellowship's mission is to be on the ground and make sure that Israelis and Jews around the world are safe and provided for even in extreme situations. Whether it's war in Ukraine or snow in Jerusalem, The Fellowship is always there to help the most vulnerable."
Globally, since January, The Fellowship has distributed scarves, heated blankets, heating vouchers to 10,000 elderly citizens, and heating vouchers to 5,250 families across the country.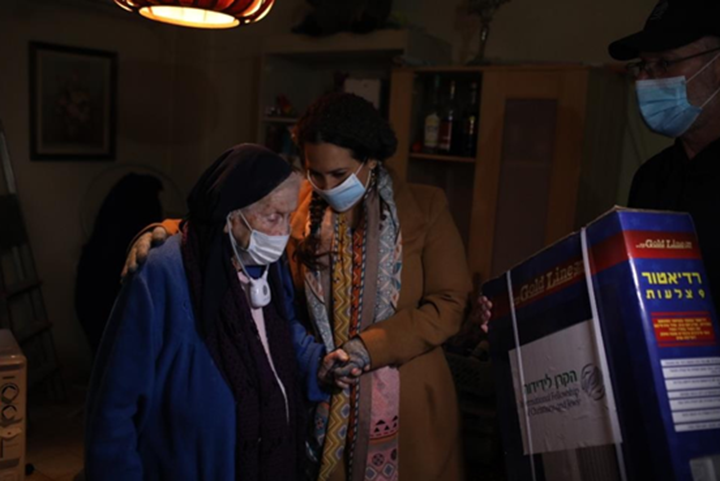 Yael Eckstein, President of The Fellowship, with staff delivering food boxes and winter supplies to 99-year-old Holocaust survivor, Shoshana. | Photo Credit: © 2021 IFCJ, photo by Avishag Shaar-Yashuv
President and Founder of United Hatzalah Eli Beer said: "United Hatzalah is proud to have partnered with The Fellowship once again in order to help safeguard Israelis. The project works hand-in-hand with our Ten Kavod project in assisting elderly residents of Jerusalem and the surrounding area on the coldest night of the year. It is incredibly important to remember our friends, neighbours, and the elderly in our community at times such as these and make sure that they have all the necessary supplies to ride out the storm and extreme temperatures. We see this as another part of our services that we provide for the community completely free of charge."
The recipients, some of whom are Holocaust survivors, were very thankful and appreciative of the packages. United Hatzalah volunteer David Agassi who assisted in the distribution said that Shoshana, a 99-year-old woman and Holocaust survivor, was so thankful that she was even brought to tears. "This is an incredibly important project and I am happy to have been a part of it," Agassi said.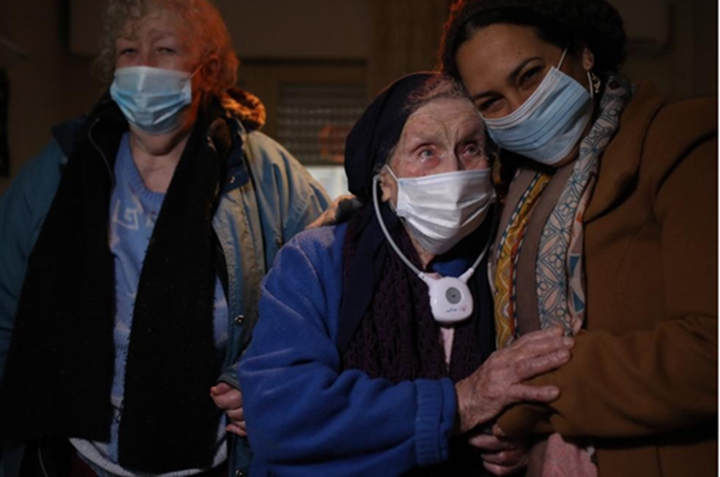 Shoshana, a 99-year-old woman who survived the horrors of the Auschwitz concentration camp, is one of the many vulnerable elderly Jews who rely on support for their basic needs. When Fellowship and United Hatzalah staff came to deliver food and a space heater to her, she said, "I can't believe you came here in the cold and the snow to help us." | Photo Credit: © 2021 IFCJ, photo by Avishag Shaar-Yashuv
Eckstein concluded: "As I looked into Shoshana's eyes, I thought of all they had seen. This woman stood at Auschwitz and looked into the eyes of Josef Mengele—the Nazi 'Angel of Death,' and one of the architects of the Holocaust—as he sent her parents to the gas chambers. She deserves to live the rest of her life in comfort and dignity. I know that when she looks into the eyes of our staff and partners, she sees the love and compassion of hundreds and thousands of people who want to help her."
#
The International Fellowship of Christians and Jews of Canada (IFCJ Canada) was founded in 2003 by Rabbi Yechiel Eckstein to increase The Fellowship's reach and support. Like its sister organization in the U.S., IFCJ Canada operates under the leadership of Yael Eckstein and is governed by an independent Board of Directors representing both faiths who share our strong belief in building bridges between the Christian and Jewish communities.
Over the years, we have been leaders in Jewish-Christian relations, building bridges of goodwill that have led to greater understanding and cooperation between members of these two great faiths. We have helped hundreds of thousands of Jews escape poverty and anti-Semitism and return to their biblical homeland, funded humanitarian assistance that has touched the lives of millions of Jews in Israel and around the world, and much more. For more information, visit www.ifcj.ca.
Yael Eckstein is the President of the International Fellowship of Christians and Jews of Canada. In this role, Eckstein oversees all ministry programs and serves as the organization's international spokesperson. She can be heard on The Fellowship's daily radio program airing on 1,500 stations worldwide. Before her present duties, Yael served as global executive vice president, senior vice president, and director of program development and ministry outreach. Based in Jerusalem, Yael is a published writer, leading international advocate for persecuted religious minorities, and a respected social services professional.